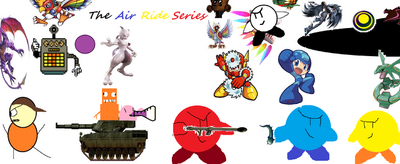 The Air Ride Series
is a series made by
Poyo Ride
. Several TARS characters were brought into
Air Ride Adventures
. It had White Kirby as the main character.
It was cancelled on November 25, 2016, and replaced with ARA. It reached exactly 200 Comics before it was cancelled. Despite being The "Air Ride" Series, it had various other topics, which was one of the reasons it was cancelled. It even had a comic topic that should have been its own series.
Trivia
The comic 85 remake implies that the returning characters from TARS are the exact same character in TARS and ARA.
Ad blocker interference detected!
Wikia is a free-to-use site that makes money from advertising. We have a modified experience for viewers using ad blockers

Wikia is not accessible if you've made further modifications. Remove the custom ad blocker rule(s) and the page will load as expected.