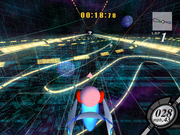 Nebula Belt 
is an unlockable track in
Kirby Air Ride
. You can unlock it by running 100 total laps on any course.  It has no enemies, being the only course with this trait, even with enemies turned on. It has 4 copy roulettes and 3 ramps. Like most courses, it has 2 laps with the default settings, though the lap count can be anywhere from 1-99 laps, as with every other course.
Missions
91 ~ Run 100 laps total on any course; (Prize: Nebula Belt) 
92 ~ Run 300 laps total on any course; (Prize: Alternate Song for Nebula Belt)
99 ~ Play in over 10 stadium modes (Prize: Single Race 9)
Nebula Belt is the only track that doesn't have any missions that need to be done on the course itself.
Trivia
It is Stiltlet's favorite Track.
This is often regarded as the best track for the Formula Star, due to the long and straight track.